Limpet Coil Reaction Vessel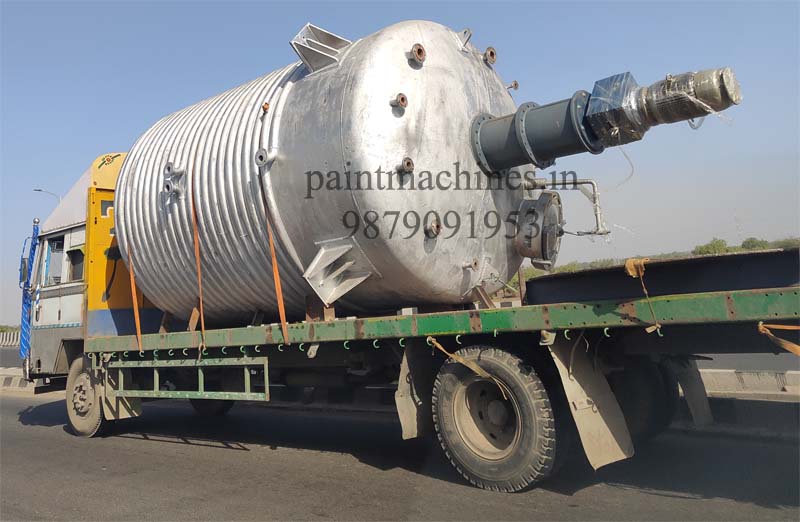 Limpet Coil Reaction Vessel
Limpet Coil Reaction Vessel is one of the most important equipment of any chemical, food, drugs, dyes and allied industries. There are various types of reaction vessel viz jacketed, Limpet coil in Body flange or Welded Types, Top open type, Top dish type etc.
We manufacture Limpet Coil Reaction Vessel with capacity ranging from 100 litres to 20,000 litres in Material of Construction Stainless Steel & Mild Steel and Rubber lined depending on the requirement of the Material to be processed.
LIMPET COIL VESSEL: Limpet Coil can be made of Mild Steel or Stainless Steel as perthe application of the user.
LENTON ASSEMBLY
Lenton Assembly contains Bearing Housing with TOP Tapered Roller Bearing for High Accuracy and resistance to impact load & vibratory load and Ball Bearing at the bottom for smooth rotation. Stuffing Box is provided with Jacket for Cooling arrangement to give long life to Gland rope. Gland pusher is provided with Gunmetal Bush Bearing thus ensuring Minimized Friction giving longer life to the Gunmetal Bearing. Bearing Housing and Lenton Assembly are steel Fabricated made from M.S. Plates of suitable strength.
LIMPET WELDING Limpet welding work is performed by using high grade filler rods depending on MOC of the Limpet coil to withstand design pressure.
Drive System is specially Designed for Maintenance & Trouble Free Performance.
Serving the varied requirements of engineering sector, we take immense pride to introduce ourselves as one of the trustworthy manufacturers and suppliers of Limpet Coil Reaction Vessels. Our reaction vessel are highly cherished for sturdiness, precision engineering, dimensional accuracy and high functional efficiency. Our vessels are extensively acclaimed for robustness, easy installation, user friendly applications and high functionality. These can be availed at market leading rates.
Reaction Vessels are used in carrying out a wide variety of chemical reactions including condensation, polymerization, esterification etherification, hydrolysis, hydration, reduction, oxidation, hydrogenation etc. at pressures (Up to 30 Kg. / cm²) and at temperatures ranging -20°C to +250°C.
Reaction needing simultaneous fractional distillation and azeotropic distillation can also be conducted very efficiently using these chemical reaction vessels.
MATERIAL OF CONSTRUCTIONS :
Various materials of construction, such as MS, SS304, SS 316, SS 316L, Rubber Lined etc, can be offered as per requirement.
Reaction Vessel Design:
Standards chemical reaction vessels and reaction kettle designed for 3 Kg/cm² Internal pressure or full vacuum, jacketed Vessels are designed for 3 Kg/cm² Jacket pressure or full vacuum. Heavy - duty vessels for higher operating pressures are also available as per process requirement. For reaction vessels for highly inflammable material, mechanical seal with supporting assembly can be provided. Variable speed drives and flame proof motors can be incorporated for special application agitators.
CAPACITIES :
We offer high quality reaction vessel in different capacities ranging from 50 liters to 35,000 liters.
Reactor Vessel, Manufacturer & Supplier in Ahmedabad