Tablet Coating Pan With Spray Systems Manufacturers & Exporters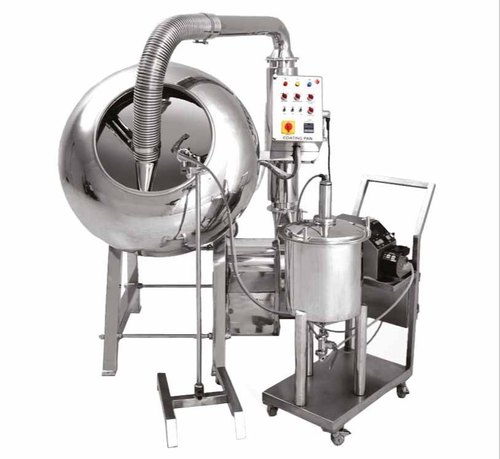 Application
The spraying arrangement used for atomized film coating of tablet on conservative coating in pharmaceuticals industry, food industry, Agro chemical and confectionery industries.
The spraying arrangement is consists of Atomized spray nozzle, elevated exact Peristaltic pump, Stand for Gun, Solution holding tank and automatic control arrangement. The absolute arrangement is work on based on auto coater machine expertise for film coating.
SALIENT FEATURES:
The mechanism is designed by cGMP norms.
All contact parts are SS 316 & all non contact parts are SS 304.
Automatic spraying structure for tablet film coating on conservative coating.
Simple moveable and dismantle from one to another machine and easy for cleaning.
Effortless control to atomized spray and flow of liquid.
Automatic Coating structure is contains are
1. Solution holding tank.
2. Peristaltic Pump
3. Atomized Spraying Gun
4. Modifiable Stand for Spraying Gun
5. Automatic Electro Pneumatic Controls Panel.
The arrangement is obtainable with one or more than spraying nozzle as per coating pan dimension.
Solution holding tanks can be dissimilar capacity it can available with and without stirrer.